The Big Picture It's not your father's or mother's game any more. The adage "take me out to the ballgame" has been redefined in the past 15 years and holds a variety of new meanings for fans. This issue of Implications will focus on the evolution of modern sports facilities in the United States, focusing on trends since 1990. These public assembly facilities—stadiums, arenas, and ballparks—have become entertainment destinations that cater to a wide spectrum of fans and provide flexible opportunities for assembly, sport, recreation, culture, arts, and education. Today, sports facilities are relied upon to host more and varied events. To do so, more space is being allocated for the tapestry of programming elements necessary to house, support, and stage the event, sometimes exceeding 1,000,000 square feet of useable space. Looking back on the past helps clarify just how far these buildings have progressed.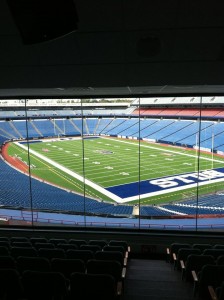 Advancements in audio/visual technology are evident in the prolific video boards, scoreboards, and ribbon board systems ringing a seating bowl with high resolution clarity and concert-level sound quality. These technologies have the capacity to pay for themselves through creative advertising whereby portions of an entire facility can be wrapped and branded with a sponsor's message at the push of a button. For major facilities, material and installation budgets for these audio/visual elements are equivalent to the building's entire electrical material and installation budgets (in the neighborhood of tens of millions of dollars).
The arrival and experience at a stadium or arena site are being fashioned to capture your senses outside the front door. The buildings are taking the inside outside to make exterior transition spaces act more like entertainment plazas, pedestrian malls, and concourses than patios, sidewalks, and parking lots. While urban settings lend best to this scenario, suburban developments that emulate an urban context are also proving successful. The trend is the "CityWalk" effect. CityWalk, the outdoor retail-dining-entertainment destination at Universal Studios, Hollywood (master planning by The Jerde Partnership) is an open-air, dense, pedestrian, urban retail center with shops, restaurants, bars, and live music.