School Communication
Bogen's Quantum Multicom IP is a comprehensive communications network that connects administrative areas and staff locations in a single building, in multiple building sites throughout a school campus, or an entire school district. It is filled with a variety of quality features and functions you can rely on every day for routine communications as well as depend on should an emergency situation occur.
Programming and changes are securely accessed and conveniently configured over the facility's network, or the internet. Authorized personnel may access Quantum using a web browser on any computer at the school or off- site.
Wireless Clock
Whether you're designing a new school, hospital or office, or you're retrofitting into an existing facility, you will benefit from Bogen's advanced time systems.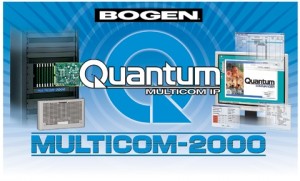 Bogen Communications specializes in designing control equipment to fit your exact parameters.
We offer timepieces ranging from simple quartz clocks, IP Clock Systems, GPS systems (synchronized to UTC within 1 microsecond anywhere on the globe), as well as everything in between.
Our highly tooled, microprocessor based products allow us to take a unique approach to the market by providing advanced solutions at competitive prices.
Video-on-demand
MediaMaster is a full-featured media delivery system for schools. It is very easy to use, with support for everything from VCRs to the most modern video-on-demand technologies. With Media Master, you are assured a flexible and manageable system that seamlessly integrates with your school's network.
The MediaMaster Advantage
•Empowers teachers to make effective use of their school's media resources, directly from their classroom computer.
•Works with any modern browser, any platform. The client software is a standard web application.
•Fully manageable from anywhere – across the campus or across the world, the Linux-based server and web technologies employed minimize the need for on-site technical expertise, keeping costs down.
IPTV
Visionary Solutions' encoders dramatically simplify the delivery of IPTV content. Harnessing the high performance and flexibility of VSI's AVN encoding series, our customers can simultaneously stream live, video-on- demand (VOD), and multicast video feeds to an unlimited number of viewers. Visionary Solutions' encoders feature standard MPEG-2/MPEG-4 hardware compression and optimized network interface technology that guarantees an exceptional video and audio quality while maximizing operational efficiencies
and cost savings for IPTV providers.