There are two main parts of Home Theater: sound and pictures. The sound is actually the most important part because it creates the most important effect, the feeling that you're actually in the environment on the screen. Most theaters today have 5.1 surround or greater, this is basically 3 speakers in front, 2 in the back, and a Subwoofer to give you that deep rumble feeling.
Creating the film-like images for Home Theater requires screen sizes from 70″ to 10 or more feet. video projectors, LCD, Plasma, and DLP can all be used, but quality varies greatly among different models. The best pictures are created through a combination of high resolution, accurate geometry, and proper color, contrast, and brightness settings. Having your set professionally setup is worth the money.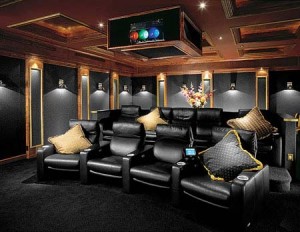 To make your Home Theater systems easy to control we suggest adding a programmable touch screen remote control to simplify operation. It is an investment that will pay off immediately for convenience and ease-of-use. Your new remote control can also be used to control your automated lighting and window coverings to complete the home theater experience. It's easy to incorporate control of these 'atmosphere' elements with your system controller.
Home theater can also be for some an LCD/Plasma TV & speakers professionally hung on the wall so it prevents any wires from showing. We are here to help you make your theater work for your lifestyle. Please contact us with your needs and let us provide you with the home theater experience.